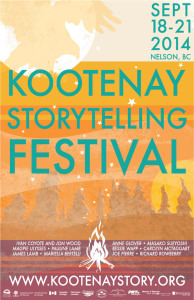 The Kootenay Storytelling Festival promotes the art of storytelling in the Kootenay Region of British Columbia through an annual storytelling festival in Nelson. After firmly establishing itself as a thriving community festival in Procter, BC, the Kootenay Storytelling Festival moved into Nelson in 2012. I joined the organization as Creative Producer in 2013.
Since the move, KSF has been taking big risks and making great leaps forward. Exciting new programming, increased public visibility, and the start of an incredible school outreach program have made the re-imagining of the Festival a great success.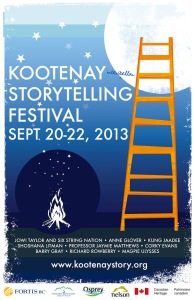 We have extended our artist base, bringing in artists from across Canada and across borders, and moving the festival from the local to the national and the international stage.  As the festival grows, it remains a programming priority to feature local tellers and stories while extending our programming to include tellers from other cultures, other parts of the country and, eventually, other parts of the world.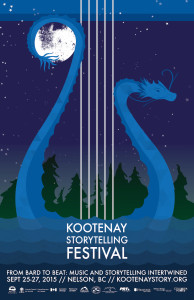 In 2014, KSF ran over four days with almost 50 individual events across four venues. In addition, the inaugural years of the outreach program of the Kootenay Storytelling Festival have been a resounding success, hundreds of regional students each year across grades 1-12 in English, French Immersion, and French programs, and in both the public and private sector.
Explore the festival further at kootenaystory.org