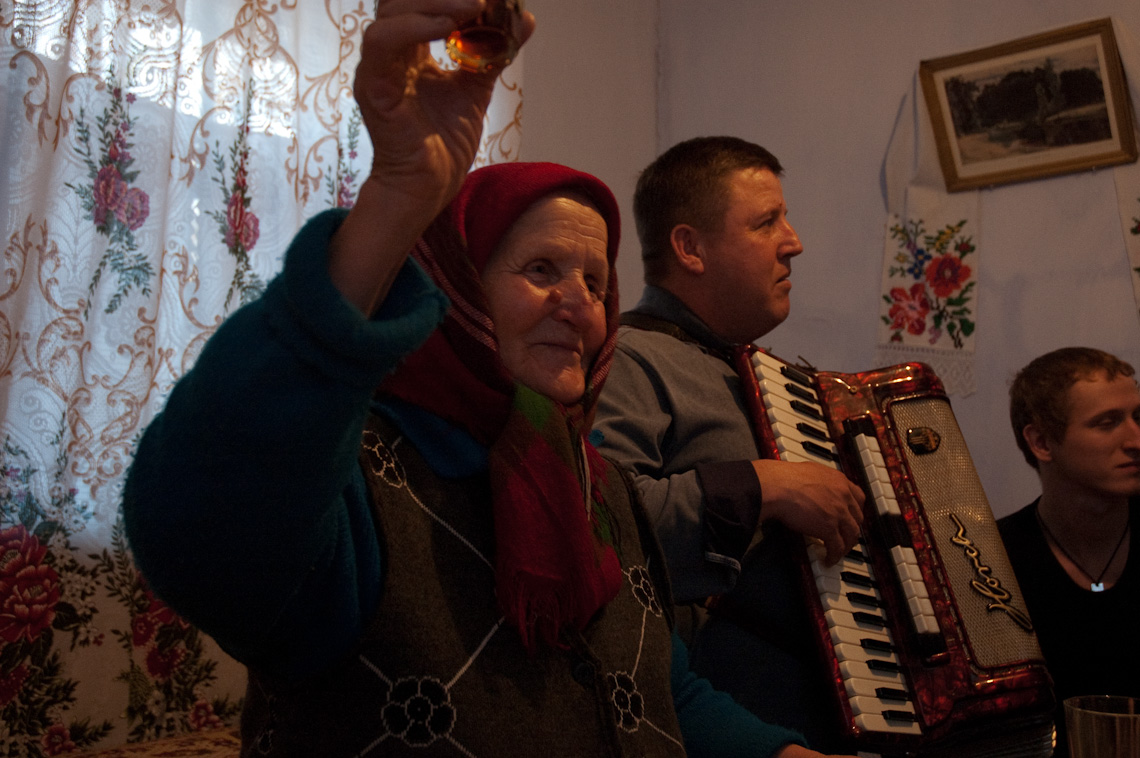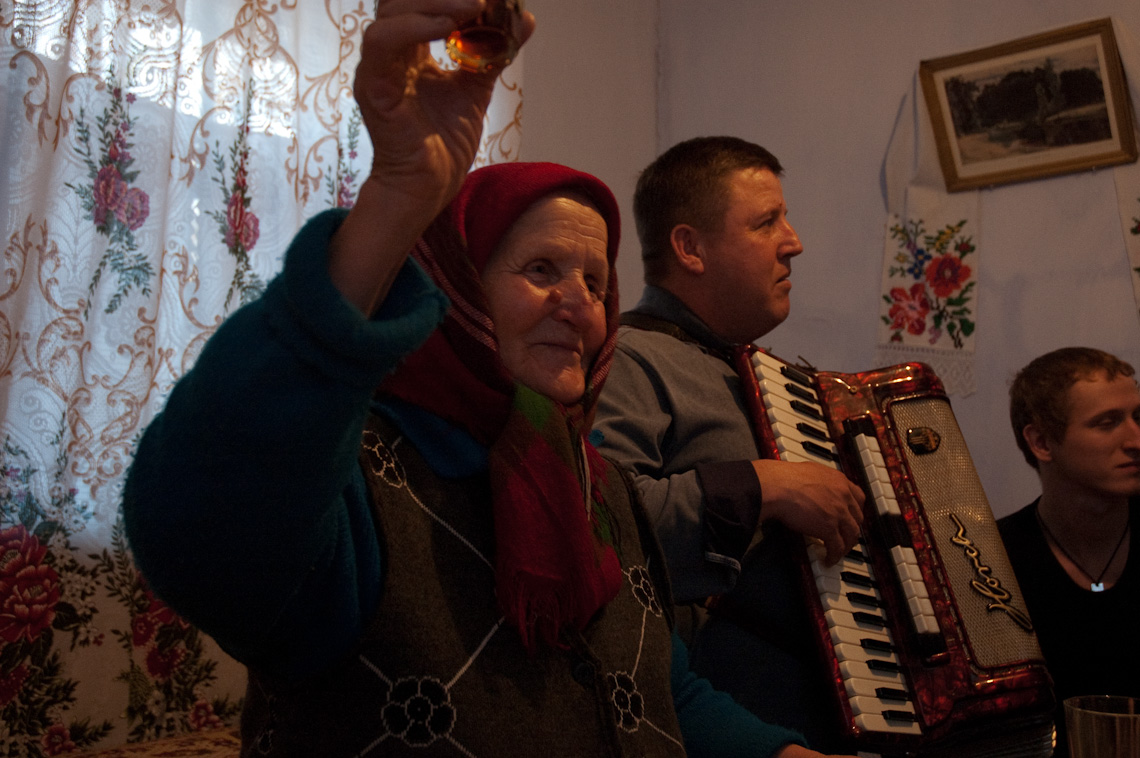 Ukrainian Feast is an exploration of cultural memory and transmission. This ongoing project was inspired by a trip to visit Konsonans Retro, a family brass band from Kodyma, Ukraine.
Impressions: Kodyma, November 2009

The sound of homemade wine being poured into glass mugs. Roads that are inverted (more pothole than not). Old sisters in matching headscarves. Village parties with tables literally piled with food, piled so thick and high that you can't see the table. Last minute 'cognac' mixed from pepsi with vodka. Stale bread and fresh cheese. Cars driven by men with gold teeth and twinkling eyes. The sun on the river. Maria Baranovska's face when she is overwhelmed with love and reaches out to kiss someone's face. Slava playing with the puppies.
I have never felt the culture shock that I felt in Ukraine. Silence, much enforced by my lack of the local language, opened space for extreme listening. Listening with my eyes wide open and my ears. The blues of architectural trim against the endless brown background of the land and the grey of the horizon. It is as if the attention to colour is in well-tested combat with a monotone world.
"Konsonans Retro are a family brass band from Kodyma, Odessa region, Ukraine. For generations – and through countless hot nights – the Baranovsky family and their in-laws have been passionately playing the wild and sweet wedding music of Podolia, a powerful and soul-stirring blend of Moldovan, Ukrainian and unique Jewish tunes. And they sing! – everywhere they are. In 2006, the band joined forces with Berlin-based master clarinetist Christian Dawid. Since then, the new Konsonans Retro have received enthusiastic response from tens of thousands of listeners in Canada, Finland, Belgium, Germany, Poland, Austria and Ukraine." www.konsonans.com
I first met the musicians of Konsonans Retro in August 2008. We met in Canada, a world in which I was at home and they were strangers. None of them had been to North America before and the culture shock was intense. North American ways of interacting with tradition seemed strange to them, perhaps a trifle forced. At the end of their trip they warmly invited me to visit them in Ukraine.
I was finally able to accept their invitation and in November 2009 I set off for the Ukrainian countryside in search of culture.
I found myself wide-eyed with cultural jetlag. The culture shock comes through in the incongruities. The colours against the greys and browns. The warm smiles despite a backdrop of hard lives. The charm of the place juxtaposed with the realities.
I set out to explore the ways that cultural traditions such as song, dance and music are maintained. What I found was food.
This project documents my experience with the Ukrainian table, and my continuing efforts to try my luck as the hostess of such a feast – with variations.
This project was made possible by a travel grant from The Ferdynand Zweig Memorial Scholarship.